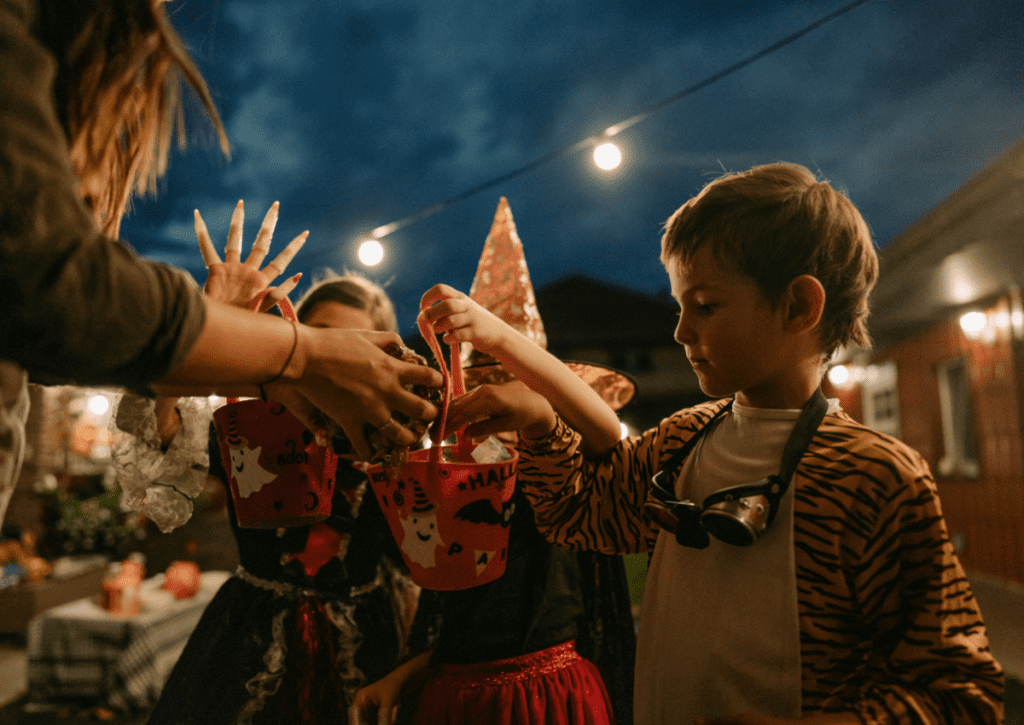 Halloween is usually a favorite holiday for kids – candy, costumes, parties at school – what's not to love? But for a child with autism, Halloween holds the potential for anxiety and irritation – itchy costumes anyone? Everything is "out of the norm" and most kids with autism thrive on routine. Our team here at Healing Haven incorporates the holiday into our therapy to help our kids learn to enjoy Halloween. So we've compiled some tips for families navigating Halloween and autism, to help you and your child have a wonderful, and not frightful, holiday!
Make the Unknown Known
Talk to your child about Halloween for a few weeks ahead of time so when the day comes it's not a surprise. Show pictures of kids in costumes, download social stories about Halloween, play videos of children trick-or-treating, etc. If you create a social story and have pictures of your kid(s) from past years, that can help to remind them of what this holiday is about.
Practice Wearing Costumes
By having a "dress rehearsal" you can help your child adjust to the uniqueness of wearing a costume. Costumes can make you hot, be itchy, feel tight. If their costume has a mask, they may struggle with seeing and hearing, make them sweat and their head itch. Costume practice is an element we incorporate into our therapy. We ask parents to send in their child's costume a week ahead of time so we can work with them to tolerate it. For children with severe sensory issues, maybe make something homemade out of their clothes. For example, a black cat using black leggings with a tail attached to the back, and a black long sleeve t-shirt is super easy. But in the end, it's also OK if your child just refuses to wear a costume at all. Get them a Halloween t-shirt and call it good!
Do a Neighborhood Walk Through
You know the houses who have the large inflatable Frankenstein, or have skeletons hanging all over their porch. A walk through your neighborhood at night – or the area you plan to trick-or-treat, can be helpful to check out the decorations. Doing this helps you plan for any houses you might want to avoid if your child may find it scary. And if you're walking in your neighborhood, ask your neighbors if they are planning to dress up and scare trick-or-treaters. You may want to avoid their house too!
Practice Trick-or-Treating
Teaching your child with autism about the rules of trick-or-treating is an important part of Halloween prep. By going through the steps of how trick-or-treating works, you will help them feel more comfortable and confident. When you think about it, this is a strange tradition we have of knocking on someone's door and getting candy. And some kids who are obsessed with rules, may find it difficult to accept this deviation in the rule of never taking candy from strangers. If they struggle with this, you may need to focus your Halloween adventures to just the houses you know.
Be specific when you practice the steps: knock on the door, say "trick-or-treat", say "thank you". Also, train them to not go inside the house, but go to the next house. And if your child uses an AAC device, make sure these phrases are loaded and they know where to find them. And if you want to reduce the number of things they have to carry, there is a great resource for AAC users through Teachers Pay Teachers. They are offering free, downloadable and printable AAC trick-or-treat communication bracelets!
Practicing trick-or-treating is another element we incorporate into our ABA therapy – providing a practice session of trick-or-treating before the real event. We host a family and staff trunk-or-treat so our clients have the opportunity to practice. It is a highlight every year for the families we serve and the staff!
Pair Up With a Friend
Trying to remember all the rules and customs of Halloween can be overwhelming. If your child has neurotypical friends or family members, make plans to trick-or-treat together. This provides them an example to follow. And it helps to have another set of eyes on your child with autism in the busyness, and darkness, of Halloween. Speaking of the dark, having a glow necklace or light up tennis shoes can help you identify your child more quickly.
What To Do With All That Candy?
Creating a plan for handling the trick-or-treat haul they bring home is wise. And if your child has allergies or a restricted diet, it's absolutely necessary. You need to know how to manage the inevitable treats that will come home. If you haven't already heard of the Teal Pumpkin Project, it's a great way to support those with food allergies. The project focuses on providing alternate types of non-candy treats. Also, talking about the issues with Halloween candy and allergies can help prepare your child for some items not being safe for them. If your family participates in the Teal Pumpkin project, you will have some safe non-food treats that you can swap out for the ones they can't eat.
Even if your house has no allergies, it's good to talk about what they can do with the candy after trick-or-treating is over. Can he eat 5 pieces or 2 pieces when he gets home? How many pieces of candy can she eat per day? Talk about these "rules" ahead of time.
Be Flexible
In the end, it's important to remember that Halloween is supposed to be fun. So if your child is overwhelmed by all the elements of trick-or-treating, don't force them to go. They could help pass out candy, or invite a few friends over who may feel the same way. Also look for alternate Halloween activities like the Detroit Zoo's "Zoo Boo" and Hallowe'en at Greenfield Village.
We hope these tips are helpful and reduce some of the anxiety either you, or your child, may be feeling about Halloween!