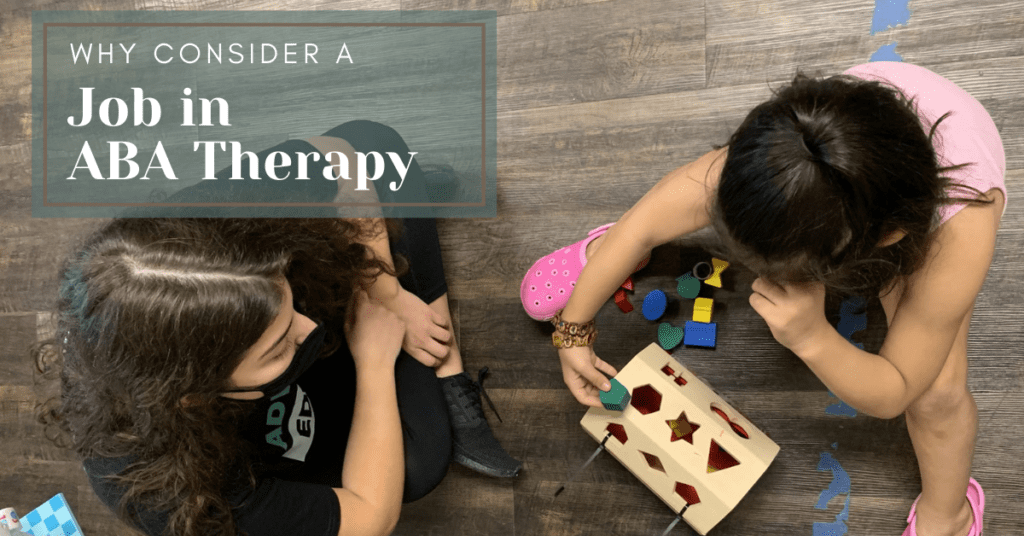 Over the past two years, our society has experienced job instability, job loss, layoffs and unemployment at alarming rates. Additionally, many employers now have more job openings than people to fill them. Many individuals continue to search for a new career. If you are one of those looking for a stable career that is more than just clocking in and out, jobs in ABA Therapy are plentiful and worth considering.
This field we work in – behavioral health and autism therapy – provides critical supports for children and teens with autism, and their families. The demand for our services has not stopped, and in fact has grown over the past two years. As a result, we continue to hire for our ABA Therapist position. This role works one-on-one with the children coming to us for support.  
So how does ABA therapy work and what do ABA Therapists do? You may be wondering if this position is the right fit for you. So let's break down aspects of our ABA Therapist position so you can gain a better understanding. 
What do jobs in ABA Therapy look like?
An ABA Therapist works one-on-one with an individual with autism providing Applied Behavior Analysis therapy. ABA therapy focuses on improving communication, increasing age appropriate social skills, improving independent daily living skills, and decreasing problematic behaviors while teaching functional replacement behaviors through reinforcement. ABA therapy is high in demand, evidence-based and the most recommended therapy for autism spectrum disorder.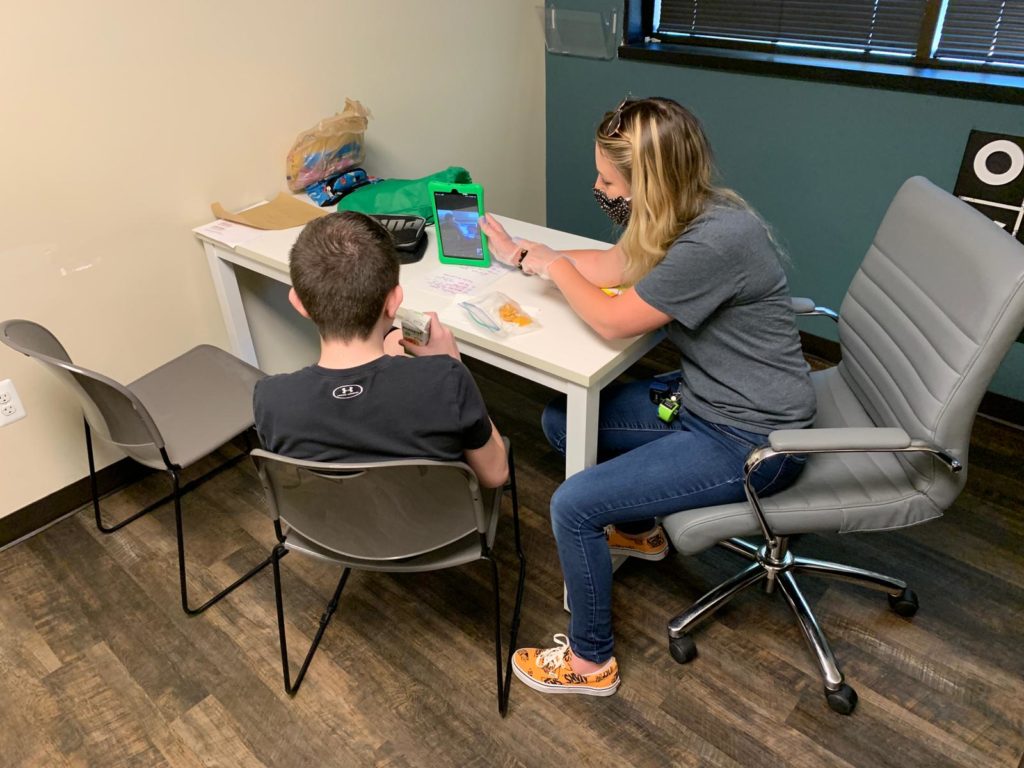 At the Healing Haven, we receive constant requests from families for our therapy services. As a result, we are regularly looking for flexible, patient and energetic individuals for our ABA therapist position. Our staff come from all different educational and career backgrounds. Many began working here as an ABA therapist before moving on to other roles, some pursue education and certification to become BCBAs (Board Certified Behavior Analyst), Occupational and Speech Therapists, or careers in psychology, education, and more. Others have moved onto other positions within the company like, Human Resources, Recruiting, Insurance/Billing, and Training. You never know where a job in ABA therapy could lead!
So why pursue a job in ABA therapy? Here are several reasons among many that make the ABA Therapist position a fantastic choice.
Teaching Through Play
Working with kids means lots of play and fun. An ABA therapist weaves in learning through naturalistic teaching strategies. These include games, creative crafts, music, and engaging in free play with the client. Not a bad way to "work!"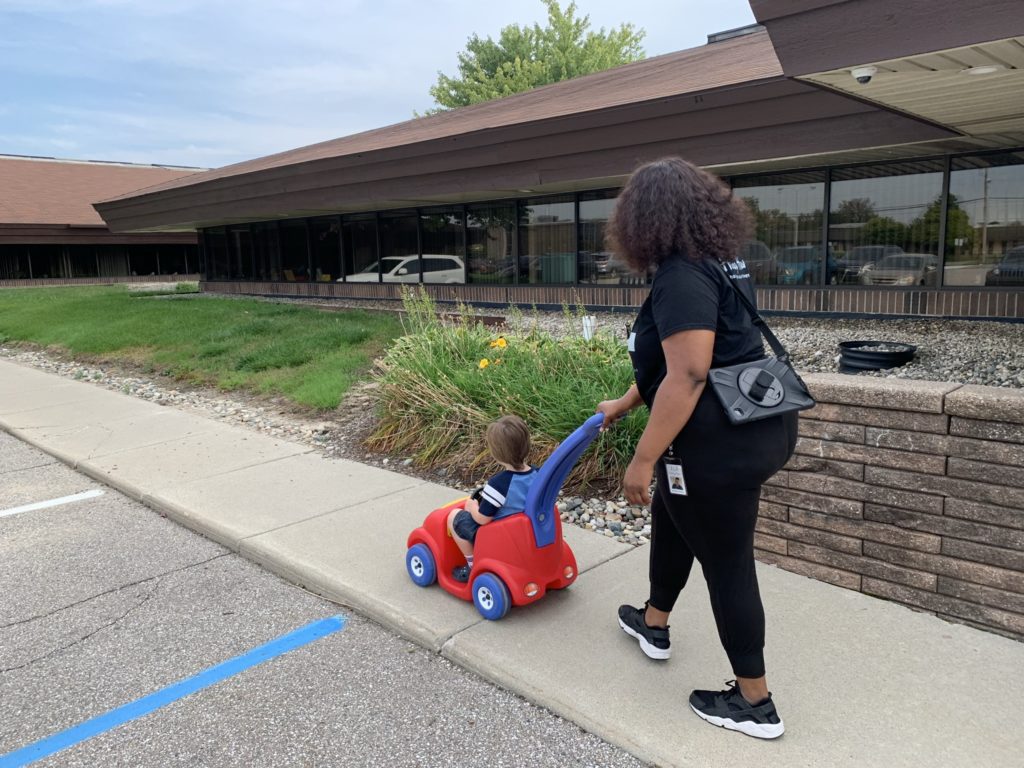 A Supportive Work Environment
A large part of ABA is either rewarding or ignoring behavior. ABA therapists are trained to observe behavior, record data, and follow behavior protocol as opposed to reacting to occurrences. This creates a reinforcing environment for the child as well as for the staff, promoting healthy teamwork. In addition, BCBAs (board certified behavior analysts) closely supervise so you feel supported and comfortable working with your client.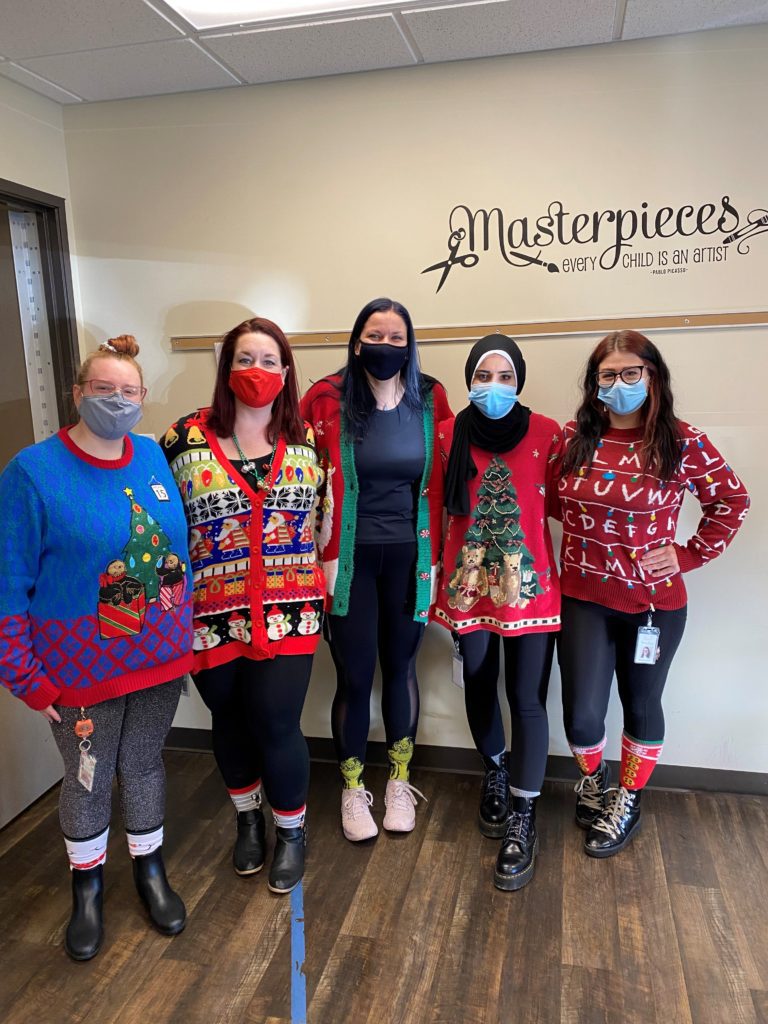 "The culture at Healing Haven is awesome. Everyone works so hard for the kids and they support each other through everything. The work we do is not easy so it is nice to have a place that feels comfortable and supportive!" -Current ABA therapist
Dynamic Days
In ABA therapy, each day is different, allowing for a dynamic workday. Your client's mood and needs shift from day to day which changes up your work with them. Clients make progress on individualized goals and programs so there is regular growth. This leads to new goals and skills to work on.
Rewarding Impact
Perhaps the best part of being an ABA therapist is seeing your client progress. You form a connection with one child at a time, learn them well, cheer them on and see them grow each day. In an ABA therapist job, you develop a trusting relationship with not only the client but also their family. It is incredibly fulfilling to know that your work positively impacts more than one individual.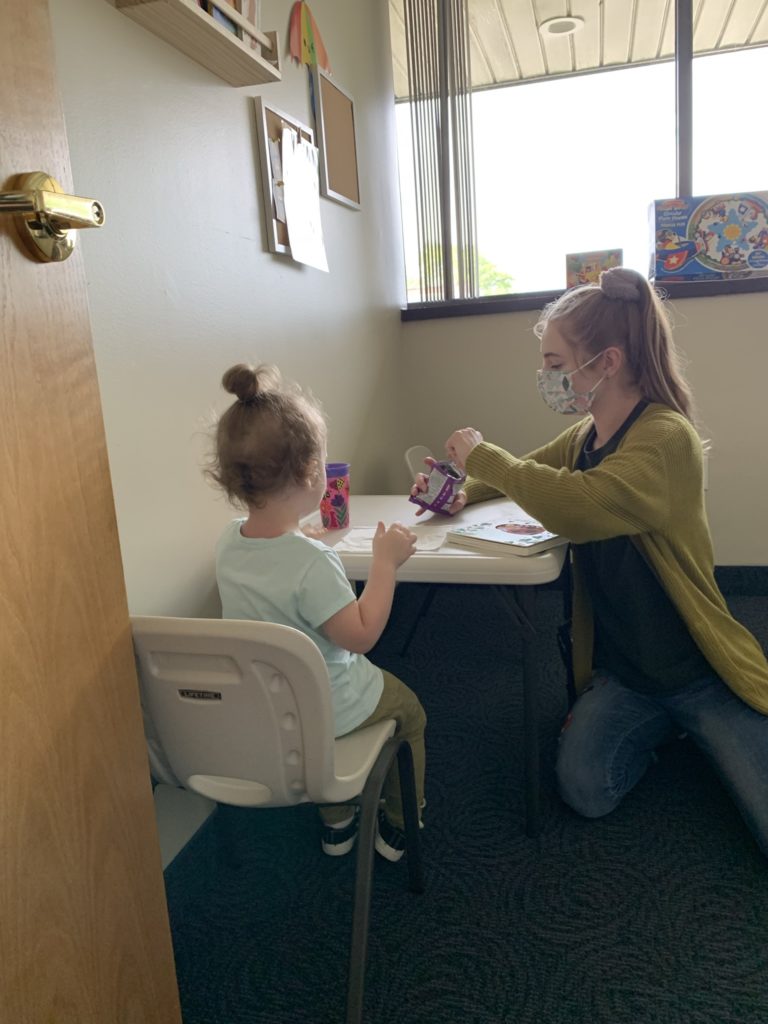 "The best part of the job is making gains and progress with the clients and seeing their growth! It makes me so happy and fills up my bucket. It's an amazing place to work." -Current ABA Therapist
Training
We provide thorough training for our new ABA therapists. Our Training team will fully equip you so you are confident and ready to begin working one-on-one with a client. Training is a minimum of 80 hours and includes:
In-person instruction module teaching
In-person shadowing at the clinic
Completing online modules for the Registered Behavior Technician® certification
Once hired, you will spend a couple weeks shadowing another ABA therapist and their client. During this time, you will gradually take on responsibilities from the ABA therapist until you are able to independently run the client's whole session. This period of training is very important as it establishes a relationship between the therapist and the client so the client will respond positively to what their therapist asks of them.
Healing Haven also requires each ABA therapist to receive their Registered Behavior Technician certification. This ensures our staff are fully qualified to provide the best services for clients. After completing 40 hours of online training modules, you will take the RBT exam (Healing Haven pays for this.) Upon passing the exam, you become an RBT and may begin to track supervision hours with your BCBA. For more info on this, visit the Behavior Analyst Certification Board website.
Have you gained a better understanding of what jobs in ABA therapy are and where they can lead? If you want to join an in-demand field at a growing company, while making an impact on a child's life, we encourage you to apply! Get more information and apply here.