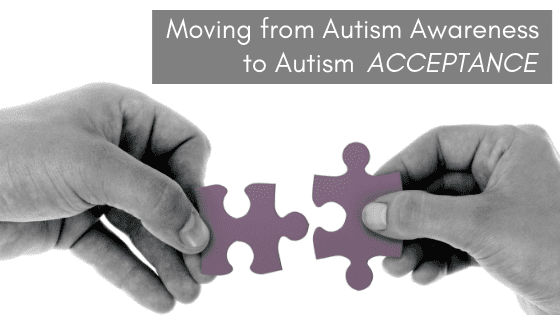 A few thoughts on Autism Awareness Month
In the United States April is Autism Awareness Month. And now in its twelfth year, April 2 is
World Autism Awareness Day
as established by the United Nations. You may see people wearing blue on April 2. There will be buildings lit up blue and lots of social media posts about the day. However, we at Healing Haven have a different perspective on wearing blue and autism awareness. As an organization we don't participate in the "light it up blue" campaign for a few reasons. The primary one being the controversial work and money management practices of the organization that launched the campaign, Autism Speaks. With all of their efforts, they do little to practically support families and their needs. Here is one
mother's perspective
. We put our efforts in helping shift the focus to Autism Acceptance Month. In comparison, we just celebrated
World Down Syndrome Day
on March 21
st
(3/21 – three copies of the 21
st
chromosome and also established by the United Nations). But this day is not only about awareness. It is a day to celebrate people with Down syndrome, while educating our global communities on their potential. It's about supporting them with programs and therapies so they can achieve more, recognizing their achievements and changing outdated perceptions of the most commonly occurring chromosomal disorder. World Down Syndrome Day sends a message of celebration and acceptance and we believe the same should happen for individuals with autism throughout the month of April.
It's Time for Autism Acceptance Month
With a recently updated estimate of 1 in 54 individuals diagnosed with autism, it's time to move from awareness to acceptance. Let's face it, most of us are "aware" of autism. The majority of us have met or know someone on the spectrum. As a result, our perspective is we need to move the focus to autism acceptance month. And not just saying "I accept individuals with autism for who they are." Let's demonstrate autism acceptance with action. Acceptance without action isn't meaningful. We need to share messages of acceptance of autistic individuals, celebrate the challenges autistic people overcome every day, and push for understanding of neurodiversity.
Action can look like:
becoming a friend to an autistic person
hiring a person with autism
reaching out to a family impacted by autism – offer to make them dinner or take a tired mom or dad out for coffee
share educational resources on autism this month with the hashtag #autismacceptance
Advocating Every Day
We
work with and advocate for autistic people
every day of the year. So one day seems like a shallow attempt to make some people feel good that they did something for autism. Throughout the year we serve autistic children and teens, and their families with the goal of helping them learn to communicate and interact with the world around them. Our holistic approach to ABA therapy looks at the entire person and how we can support their learning, communication, play and pre-vocational skills. We do that while also helping to lessen any harmful behaviors that get in the way of the individual living a full life within their family and community. If you could hear the celebrations throughout our clinics when a client asks for something they want for the first time. We cheer them on when they gain a new skill that they've worked on for months. And we celebrate with families when they experience accomplishments with their child that they never thought possible. So for Autism
Awareness
Acceptance Month, we will continue to do what we do every day. But we may shout a little louder the worth of individuals our world views as "different"!
If you found this information helpful, we'd love it if you'd share it with your network!