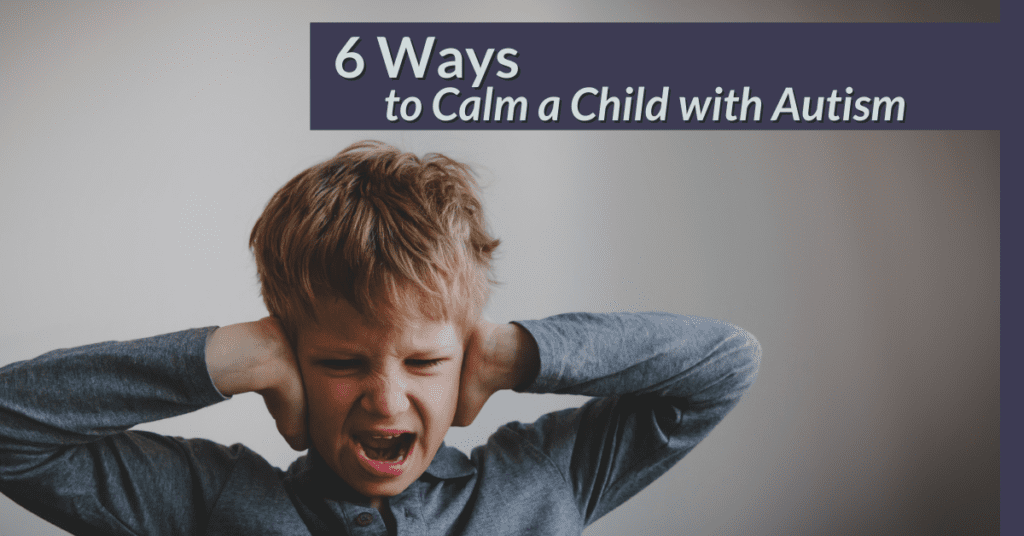 Raising a child with autism brings surprises and challenges. One possible difficulty is managing meltdowns. While every child has rough moments, for a child on the spectrum meltdowns are different. They often happen when the child is overstimulated and cannot communicate why they are upset. A valuable way to cope when meltdowns occur is to learn ways to calm a child with autism. Through detailed preparation, you and your child will feel more equipped to handle big emotions the next time they experience distress.
Warning Signs
Meltdowns may occur out of the blue or perhaps they come after a specific trigger. This can be very stressful for not only the child but parents and other family members as well. However, certain displays of behavior can cue parents to when their child might be on the verge of a meltdown. Some of these behaviors may include:
Increased stimming- agitated hand flapping, body rocking, pacing, hands over ears
Loud vocalizing
Crying
Eloping – running away from a situation
Self-injurious behavior (SIB)- banging head, picking at skin, hitting or biting self
Perhaps it is a certain location, a noise, or denied access to something that set off your child. Keeping a log of triggers can help prepare you for future incidents and allows you to be proactive in recognizing and coping with meltdowns. And in the meantime, try some of the following six ways to calm a child with autism when they are in distress.
Addressing Sensory Needs
Children with autism often have many more sensory needs than an average neurotypical person. Deep pressure stimulation such as gentle head or shoulder squeezes can help kids feel secure and move their nervous system into the parasympathetic nervous system, also called "rest and digest." When we are in the parasympathetic nervous system, our bodies feel safe and secure which in turn calms our minds.
Additionally, learn what objects or toys are soothing to your child and have them on hand. Keep a bag of sensory objects with your child that they can utilize when they are feeling overwhelmed. Fidget spinners, blankets, squishy toys, or chew toys can bring comfort to an overstimulated nervous system.
A sensory friendly "calm down corner" can also help quell meltdowns. At home, designate a safe area for your child that includes soft lighting, calming music or white noise, and comfortable items such as bean bags or pillows. If your child attends school, coordinate with teachers to create a calm down corner in the classroom. If you're in public during an episode, remove your child from the triggering environment as soon as you can and take them to a neutral location.
The Power of Music
Music can be very therapeutic to individuals with autism. Music increases brain connectivity which in turn helps regulate emotions. Additionally, singing a favorite song of your child's may help them relax, as familiarity can be grounding. Try softly singing or playing soothing quiet tunes on headphones to help your child self-regulate.
Deep Breathing
Breathing is very powerful in calming the mind and body and can assist in regulating emotions for a child with autism. Sit face-to-face with your child and have them breathe deeply with you. Counting inhales and exhales as they breathe is a helpful technique. The exhale places the body back into the parasympathetic nervous system so make sure your child is releasing all the air. Breathing together will also help you feel more calm during a meltdown.
Exercise
Moving and fresh air help all of us feel better and is another great strategy to calm a child with autism. Walk with your child around the block, visit a nearby park, or put on a kids yoga video to help them center.
Stick to Schedules
Sometimes unpredictability triggers a meltdown. Pre-planned agendas can provide comfort to children with autism so they know what's coming next, reducing anxiety. You can even create visual schedules for your child to reference throughout the day, which can help them stay on task. There will obviously be times when the schedule needs to change last minute, but try to give your child as much notice as possible.
Avoid Reinforcing Behavior
It's natural to become worked up and overwhelmed watching your child experience such high levels of distress. But it's important to avoid displaying strong emotions in front of your child in the heat of the moment in order to avoid reinforcing their behaviors. Remain as calm as you can and focus on deescalating your child through whichever method they respond best to. But be sure to make space to process your own emotions after the episode so you can regulate as well.
We hope these six ways to calm a child with autism will help you and your child the next time a meltdown arises. Know that you are not alone and that it is ok to feel overwhelmed. Our parent training resources include strategies in addressing specific meltdown situations. For more info, visit our ABA Parent Training page.