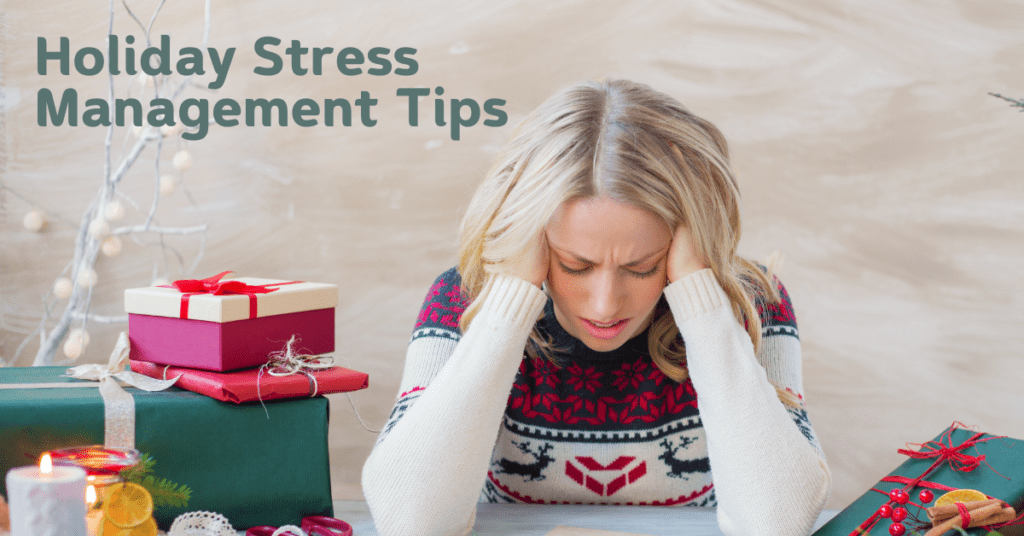 The holiday season can be full of wonderful activities, parties and family gatherings. But there is also an added level of stress during the holidays because of the extra "hustle and bustle". Shopping, baking, decorating, wrapping and hosting – how much can we add to our plates? And when you are also parenting a child with autism or other special needs, the demands of the holidays can become overwhelming. With input from our Counselors on staff, we've compiled some holiday stress management tips to help you enjoy this season.
Holiday Stress Management Tips
1. Acceptance
Something that may seem obvious is the ability to accept your child as they are and be flexible for their needs. These can be huge drivers to reducing your overall stress. Mentally prepare yourself that during this busy season your child may engage in more self-soothing behaviors to cope with the changes in their routine and added stress. They also may not want to interact with all the extra family and friends that you see this time of year. Giving your child some control and choices may help as well. You can offer controlled choices about the time they go and leave from gatherings, if they want to go somewhere or where some decorations should go.
2. Flexibility
Also look at your own expectations around the holidays and try to be more flexible. Realize that it's OK that your child may not feel the same way about the holidays as other kids. Your child may not like the traditional holiday activities, so stop and ask yourself the motivation behind doing something (like taking a picture with Santa). If the motivation is that it's a "childhood tradition", it's not worth having your child stress out, panic or go into a full meltdown getting near Santa. And develop a mindset of being flexible. If you have to make a last minute change because your child becomes over stimulated, that's not only supporting your child and their needs, but also a self-care practice for you!
3. Set Boundaries
You know your child and how and where they are at their best. If your entire family is gathering at Grandma's house there are ways you can still participate. Plan to stay for an hour so that you leave before your child reaches their sensory maximum. It may be helpful to communicate ahead of time the boundaries you are setting with your family members to avoid any misunderstanding. And thanking them for understanding the choices you need to make will help them to feel appreciated for being flexible.
You could also plan to arrive to gatherings early in order to allow your child to slowly acclimate to the number of people showing up in real-time, which could help make them feel less overwhelmed.
4. Say No
With so many invitations, activities and options presented to us during the holidays, we can end up finding ourselves in situations that may take away from the enjoyment. Furthermore, saying yes to an event when you actually want to say no can lead to feeling overwhelmed and also experiencing resentment. If you know your child will not do well at someone's house, you can kindly decline an invitation. Remember, all you need to say is "I am sorry, we cannot make it – thank you for the invitation." You do not need to give a reason or explain why you cannot make it to the event. It can be so hard to say no, but if it will reduce the stress in your life, you need to do it for your own sanity.
5. Pace It Out
Decorating your home for Christmas can be fun for some, but sensory overload for others. If you gradually get your decorations out, your child can acclimate to the new lights, smells and sounds slowly. Progressively introducing new decor into the living areas of the house allows your child to gradually adapt to the environment. Otherwise you risk overloading them with the changes all at one time.
It may also be useful to take time to familiarize your child with the destination or venue of any gathering as well as the guests that will be attending. This can be done through photos or preparing a photo album they can hold and refer to during the event, as well as reviewing it beforehand. This can help reduce the chance of surprises and help them feel comfortable in knowing the environment and people they will see.
6. Find Balance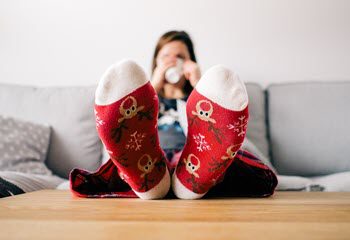 An important holiday stress management tip is to work in some quiet, soothing activities with your kids to help them balance all the additional sensory input that comes during this time of year. And those quiet moments can benefit you too. Furthermore, find balance in the ability to indulge in the yummy treats of the season without feeling guilty. It is common for healthy eating habits to take a backseat this time of year. But if you can balance out the sweets indulgence by increasing your water intake each day, you may feel more positive about enjoying the holiday treats.
It's also important to make sure to set some time aside to indulge in self-care activities that help you relax, have fun, or feel energized. These activities could include talking with a friend, going for a walk, reading, listening to music, or whatever else you enjoy. The important part of self-care is not so much what you do – it's just that you do it.
7. Keep Structure
You and your child have schedules – daily, nightly, weekly routines. Keep as many things consistent as possible. For example, if you have self-care activities such as attending a work out class or getting your nails done, keep that commitment even during the busyness of the holidays. If your child has a nightly routine of taking a bath before bed, leave the holiday event with enough time to allow your kiddo to complete their routine. Keeping your typical agendas will set you and your family up for success during this often hectic time. And if a change in your child's routine is unavoidable, creating a holiday visual schedule can help them prepare and process what is coming. Here's another great resource for holiday social stories and visual schedules.
8. Avoid Perfectionism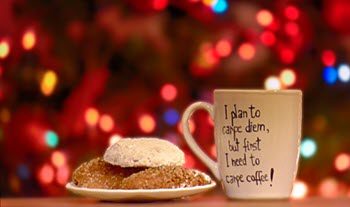 So many caregivers are perfectionists by nature and the holidays can intensify the desire for things to be "just right." Though this may be difficult, try and focus on the big picture of the holiday season by avoiding getting caught up in the little details. Give yourself permission to be less than perfect, write it down or say it out loud "things do not need to be perfect this holiday season!"
9. Consider Dietary Restrictions
As you likely already know, autistic individuals are more likely to have dietary restrictions than others. This is something to be aware and mindful of, as well as make known to others so that your child isn't excluded in that sense. Even if there are no dietary restrictions, having preferred food items around for your child can be helpful and effective in helping them remain calm and comfortable in stressful situations. With this said, also be mindful of extreme amounts of sugar available and accessible, as this could also heighten stress and anxiety during the holidays.
10. Sleep!
This is a small one and may seem somewhat of a cliché, but getting enough sleep is so important for stress management especially around the holidays. With all of the things we have to get done during the holidays, sleep often gets neglected. But we also know that lack of sleep makes most people more vulnerable to irritability, mood changes, etc. Protect your time to sleep by prioritizing what needs to get done today verses what can wait until tomorrow so that you aren't sacrificing sleep to get things done. Also do your best to ensure that your child gets enough sleep as well, as this can make a huge difference in their energy and behavior.
Some of these holiday stress management tips may seem easier said than done. But we hope that you find at least a few of them helpful and easy to incorporate into your holiday season. Even if it's just hearing that you CAN say no and set boundaries. Doing so just may lead to a less stressful and more enjoyable season!
And if you find your stress level increasing into the new year, our Counseling program helps parents of kids with autism, as well as children and teens on the spectrum. Contact us for more info.
If you found these holiday stress management tips helpful, please share it with others!