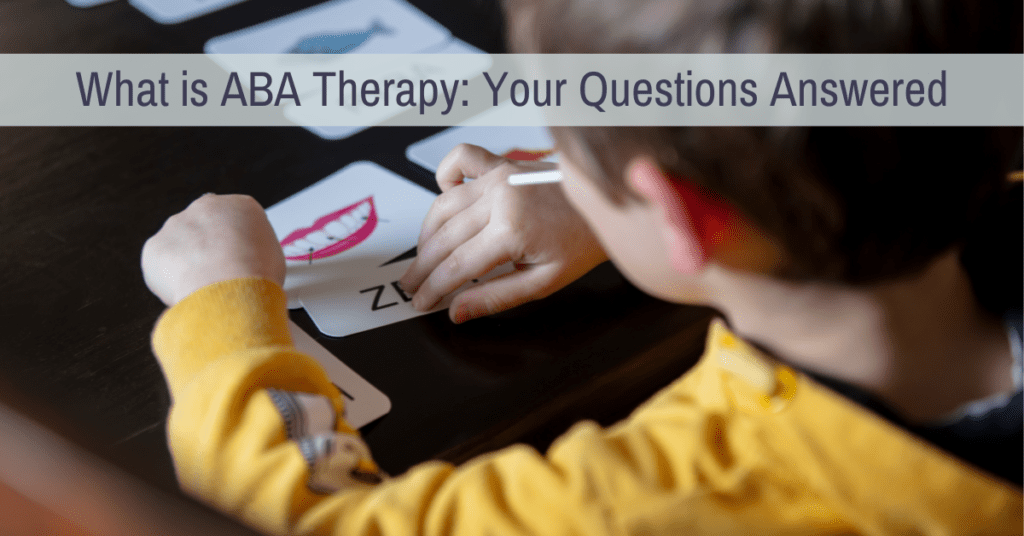 Following an autism diagnosis, many professionals recommend ABA Therapy as the first form of support. But many parents often leave those meetings wondering what is ABA Therapy? It's common to have lots of questions. It's important to feel informed and clear on treatment options as you seek support for your child. Not to mention, choosing a therapy provider can be overwhelming and can take a lot of time. We'll break down some commonly asked questions about what ABA Therapy is so you can feel prepared to help your child.
What is ABA Therapy? 
Considered the "gold standard" in autism treatment, ABA (Applied Behavior Analysis) Therapy is a scientific approach to understanding behavior. It's a method of therapy used to improve specific behaviors, decrease interfering behaviors and help a child gain new skills such as communication, play, social, and daily living skills. ABA Therapy is evidenced-based and the most frequently recommended option for the treatment of autism.
Is ABA Therapy effective? 
ABA Therapy proves to be highly effective, based on over 50 years of research. Medical professionals and institutions such as the American Psychiatric Association, the American Psychological Association, and the U.S. General Surgeon approve ABA as a valid treatment for autism.
ABA Therapists and BCBAs (Board Certified Behavior Analysts) create and implement plans for the client to meet specific goals tailored to the client's needs. They set the client up for success by breaking down the steps to each goal. If an approach isn't working, the ABA Therapist and BCBA will find another one. For example, a child may be working on regulating their emotions during tantrums. The ABA Therapist and BCBA might implement tactics such as deep breathing, sensory input, and physical relaxation. But if sensory input seems to further aggravate the child, that tactic will be removed and replaced with a helpful one.
Is ABA Therapy a fit for my family? 
Parents love their children and want what is best for them, no matter their diagnosis. You may be asking, "How can ABA Therapy help my child?" All children have the right to learn important skills in order to be independent and to maximize their happiness later in life. For children with autism, learning some skills can be harder. ABA Therapy can build on your child's strengths while also supporting their learning in the areas they need it most.
In deciding if ABA Therapy is a fit for your family, it's important to understand the provider's approach to ABA. ABA Therapy should be customizable to your child's needs, with an emphasis on generalization to make sure skills transfer to the natural environment.
Additionally, it's important to know the credentials of the BCBA and understand the center's training program for their ABA Therapists. This is to ensure they are qualified for the work they are providing. Another factor is to make sure they have a positive and comfortable relationship that allows room for learning. There should also be frequent and open communication between you as the parents and the child's BCBA in order to build goals that are appropriate and sensible to you. Remember, you know your child best and it's important to find professionals that align with your specific values.  
What do ABA Therapists do? 
ABA Therapists are trained behavioral professionals that work closely with and under the supervision of BCBAs. They help implement behavioral goals set for the client. As a team with the child and BCBA, the Therapist will help teach functional skills, address problem behaviors that interfere with learning. They also help the child gain skills that will allow them to better participate in school and the community. 
What is a BCBA? 
According to the Behavior Analyst Certification Board, "A Board Certified Behavior Analyst, or BCBA, has a graduate-level certification in behavior analysis. Professionals certified at the BCBA level are independent practitioners who provide behavior-analytic services. BCBAs may supervise the work of Board Certified Assistant Behavior Analysts – (BCaBAs), Registered Behavior Technicians (RBTs), and other professionals who implement behavior analytic interventions." 
At Healing Haven, BCBAs also provide parent training and can work with school professionals to help therapy translate efficiently across all situations and settings the client is in. To become a BCBA, an individual must undergo a 5-step process that includes: earning a relevant Master's Degree, completing required behavior-analytic graduate coursework, completing required supervised fieldwork, apply for, take, and pass the BCBA exam, and then apply for state licensure.  
What happens during an ABA session? 
An ABA session typically begins with specific goals established for the child, which are discussed prior to starting therapy sessions. Throughout the session, the Therapist works one-on-one with the child. Their job is to ensure the child is learning and understanding the skills that are being taught. ABA Therapists utilize encouragement, praise and other motivational tactics tailored to the specific child and programs being worked on. Therapy is delivered both with and without supervision by the BCBA. 
Kate Fritz, MA, BCBA, LBA, is the Clinical Manager of our Early Intervention Clinic. She describes a typical ABA session at Healing Haven this way:
In ABA sessions, we work hard and play hard! How an ABA session looks can greatly vary depending on the client's age and skillset – programming is individualized to the client. In general, you can expect to see the use of play to work on communication and social skills, building up independence with daily living skills (e.g., working on putting on a winter coat), and both individual and group times to work on behavioral goals related to school-readiness. In action, this may look like a kid sitting in circle time imitating song motions, then reading a story with their therapist and pointing to animals and colors throughout the story, sitting and eating snack with peers, going to the restroom to work on washing hands independently, then heading to the playroom and pointing to toys up on a high shelf to communicate what they want to play with.  
When should my child start ABA? 
A child should start ABA Therapy if deemed appropriate, after receiving a medical diagnosis of autism spectrum disorder. Autism, for example, can be detected and tested for as early as 18 months old and by age 2 can be considered a reliable diagnosis as a means for therapy intervention.
Early intervention is key. "Research very clearly states that early intervention for children with autism and other developmental disabilities is vital," explains Jamie McGillivary, MS, LLP, BCBA, Founder and President of Healing Haven. "When children start therapies like ABA early on, they receive strategic learning opportunities that support them in the areas they need."
However, ABA Therapy is also beneficial for older children and teenagers. Even if a child is diagnosed later, ABA therapy could be worth looking into to learn and improve in areas that may be challenging for them. It is also important to remember that ABA Therapy isn't automatically a lifelong commitment. Many children transition to lesser levels of therapy as they master skills.  
Is ABA Therapy covered by insurance? 
Because it is considered a behavioral health service, ABA Therapy is covered by most insurance policies. However, this can vary by plan and from state to state. In Michigan, it can vary by employer insurance plans, so it is important to call your insurance provider. It is important to discuss the specifics of what is and what is not covered by your plan as it pertains to ABA Therapy services in your location. More information about this can be found when you search "Autism Spectrum Disorder Health Coverage" on your state government website. For example, Michigan's explanation of autism health coverage is found here. The Autism Alliance of Michigan is also a great resource for parents navigating insurance coverage. 
We hope this information is helpful as you navigate therapy options for your child. To learn more about Healing Haven's ABA Therapy programs for children and teens up, contact us today.