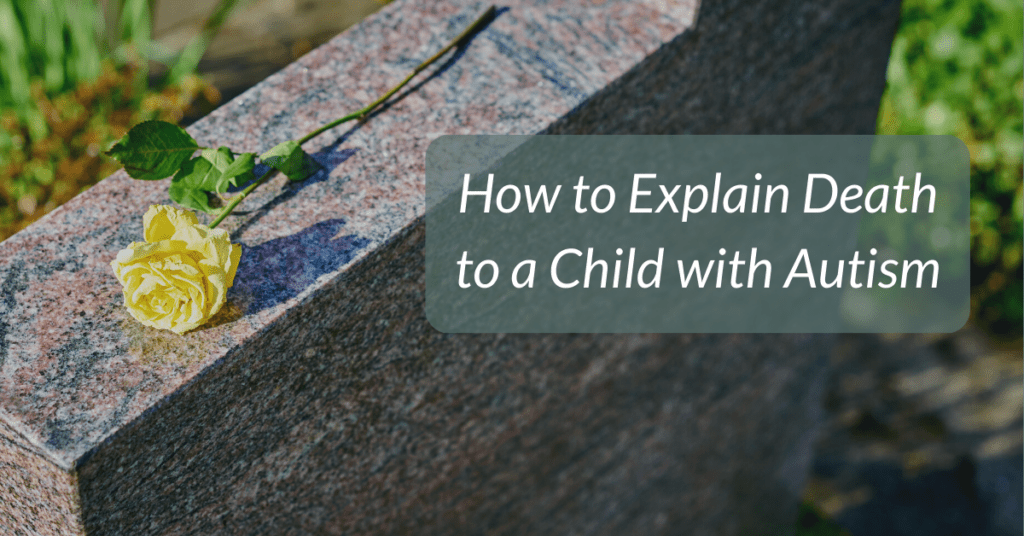 Losing a loved one, whether it is expected or not, is hard for anyone to navigate. It's a process that involves accepting reality, seeking support if necessary, and allowing yourself time to feel natural emotions. So it's not surprising that explaining the death of a loved one to a child with autism may bring some additional challenges.
Death is a difficult concept for any child to understand, let alone those who may have a hard time grasping abstract concepts. But death and loss are also unavoidable. That's why we put together some tips to help your child with autism or special needs understand and deal with the process of losing a loved one.
Be literal and thorough when explaining the loss
When explaining the death of a loved to your child with autism, use literal terms. This may help the death make more sense to them. Avoid using terms such as "passed away", "gone to sleep", or "gone to another place". Using these terms risks your child taking them literally and becoming frustrated when their loved one doesn't wake up or come back.
Be direct when you are explaining the passing of a loved one to your child. The more direct you are, the easier it will be for them to understand. Allowing room for questions is key here and answering them honestly to the best of your ability should take priority.
Keep routines as unchanged as possible
Change in routines can be particularly challenging for individuals on the spectrum. The death of a loved one is a major life changing event. That's why it is best to keep everything else within their routine as consistent as possible. People with autism find comfort with routine, and comfort is something we all strive for while grieving. Bedtime routines, playdates with friends, school and therapy may be part of daily routines. You should try your best to maintain these activities if they bring your child peace.
Involve them
When helping a child (with or without autism) through loss and grief, it may seem best to exclude them from certain parts of the process, like attending a funeral with an open casket. While it largely depends on your child's level of cognitive understanding, as well as your expertise in making the best-informed decision for your child, many professional sources suggest that shielding a child with autism from the complexities that come with loss will likely confuse them more. These sources suggest being transparent and asking your child if they would like to be part of a certain aspect (like the funeral, wake, or burial). With this, allow them to ask any questions they might have.
Another good option, as Alicia says in The Mom Kind, is "to have a celebration of life that they can attend instead of the funeral". Doing this, Alicia says, "allows involvement without having to see all the grief".
Prepare them, if possible
If you know that a family member or loved one is terminally ill, try and familiarize your child with all the places they will be during this time. This could be places like the hospital, funeral home, or cemetery. Remember to talk about the emotions they will see from others throughout the process. A great way to do this could be through pre-made "social stories". Social stories use photographs to help explain and show the child what will happen before it happens in real-time. These photographs and descriptions of the photographs can include emotions that they will observe of others. More information on constructing a social story can be found here.
As we know, children who are on the spectrum can have an especially difficult time dealing with the unexpected, so it is a good idea to make the loss as "expected" as possible. Of course, this may not always be possible and sometimes a loss can be sudden. In this case, you can still do your best to show and tell your child what to expect. Use any photos you have available or pictures online to do this. More ways to prepare your child for loss and help them understand it can be found in this article from Child Bereavement UK.
Utilize books that help explain loss
When it comes to bereavement and children with autism, a lot can be gained from books that are specifically made for this life event.
The 2017 book, I Have a Question about Death: Clear Answers for All Kids, including Children with Autism Spectrum Disorder, is a straight-forward, color-filled read that addresses the questions that concrete thinkers might have surrounding death. It answers them in a simplistic manner. This book has an abundance of good reviews from parents who have had to explain this topic to their children. We recommend it as well!
Another book that is a good choice for the topic of grief is the interactive workbook, Finding Your Own Way to Grieve by Karla Helbert. This book is unique in that it encourages expressive techniques and exercises to help your child identify and process the feelings that accompany loss. This book is perfect for children and teens to work through on their own. They can also use it with the help of a parent or professional. Find this book here.
Lastly, How People With Autism Grieve, and How to Help: An Insider Handbook, is best suited for teens and young adults who need security and affirmation after losing a loved one. Though the book only bases suggestions off one person's unique experience, it can prove helpful in relating to what your child might be feeling emotionally. Find out more about it here.
Takeaway
We all have different ways of dealing with loss. It's important to make it known to your child with autism that there is no "right" or "wrong" way to respond to the death of a loved one. The most vital thing, though, is to ensure that your child knows there is support around them and that they have people to talk about it with when they feel sad or confused.