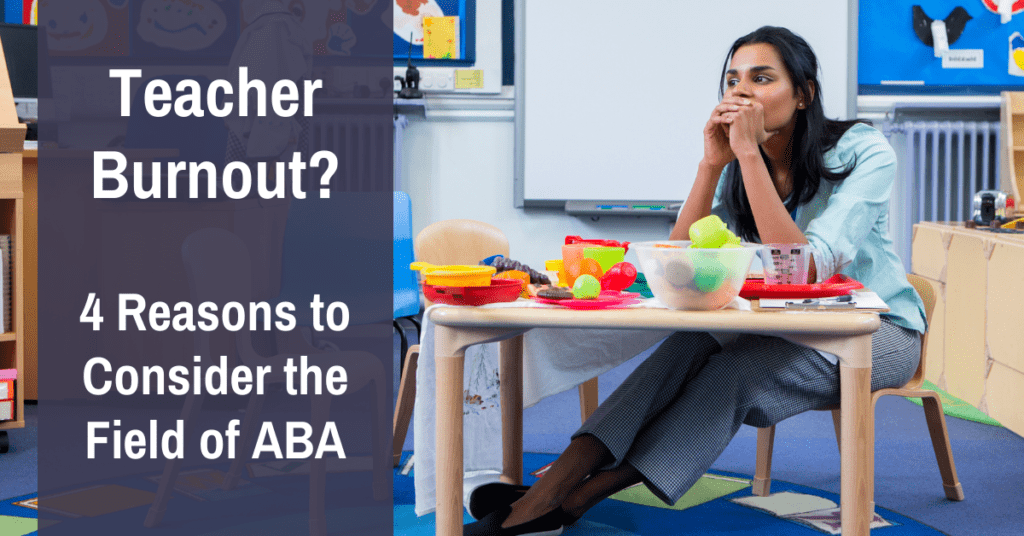 I left teaching just weeks before the lockdown in February 2020. Though left for reasons unrelated to the pandemic, I know I would have said goodbye to teaching sooner or later with the way COVID has impacted education. Increased demands on teachers and school staff, major conflict over mask mandates and safety concerns, and a lack of resources are just a few of the challenges educators have faced, leading to unprecedented teacher burnout. Consequently, a recent survey reports that one in four teachers expect to leave the classroom by the end of 2021.
To leave or not to leave?
Making the decision to leave teaching is not an easy one. One of our exceptional Board Certified Behavior Analysts (BCBA) and former special education teacher, Julie McGregor, M.Ed., BCBA, LBA, knows the difficulty in deciding to leave teaching. "The decision to leave the schools is a tough one. We went into it because we love kids and want to make positive changes in their lives," Julie explains. "But there is truly no harder job. There is so much pressure." That pressure often leads to teacher burnout.
For a job field that was already underfunded, under-resourced, and under-supported, it's no wonder so many teachers have called it quits. But many former teachers are seeking new careers in fields where they can still utilize their leadership and planning skills. These fields include but are not limited to, writing positions, project management, academic advising, and human resources.
Why consider the field of ABA
If you're a teacher who recently left your position or are toying with the idea of a career change, you might feel inhibited by uncertainty of where to go next. Julie knows this uncertainty all too well. "If I wasn't going to be a teacher forever, what was I going to do next?" We might be biased, but jobs in Applied Behavior Analysis are an excellent option for teachers experiencing burnout.
As one of those burned-out educators, I found my new position as an ABA therapist very manageable and much less stressful. Additionally, I still get to make a difference in young lives. If you've left teaching, your experience and skills are not lost. Consider these four reasons for why ABA therapy might be the perfect post-teaching career for you.
1. Utilize similar skills
As teachers, we do so much and wear too many different hats. More than most people realize. Yet, in turn, we develop invaluable skills that are not just limited to life in the classroom. These include patience, creative thinking, and excellent communication skills. Put these refined skills to use in ABA therapy as an ABA Therapist/Behavior Technician or Board Certified Behavior Analyst. Both positions require close communication with parents and alert attention to detail when taking data on behaviors. Because ABA is evidence based, it requires the precise organizational skills and attention to detail that teachers acquire. Additionally, thinking outside the box is helpful in ABA when analyzing and creating behavior intervention plans. Teachers experience a range of behaviors in the classroom so they bring valuable insight when understanding motives for behavior in their clients.
2. One-on-one work versus overpacked classrooms
In ABA therapy, working with kids with high behaviors can be difficult at times. However, ABA therapists work one-on-one with a client and receive supervision from the client's BCBA. BCBAs often work with 7-10 clients total but not all at the same time; they schedule times to be with each client individually. As teachers, we've basically championed managing behavior in classrooms of 20+ kids. So picture the ease of only having to worry about one of those kids at a time—you got it in the bag!
3. Continue making a difference
Teachers quite often choose their jobs because they want to make a difference in lives. Good news—you don't have to leave that behind in ABA therapy. Our own Healing Haven ABA Therapists very often speak to the fulfillment of helping kids and families, as well as seeing kids' quality of life improve drastically. When Julie went back to school to become a BCBA, she knew she wasn't sacrificing making a difference in kids' lives. "[ABA] was perfect. I still got to work with kids, help them grow and learn, and watch them make such huge gains. But I got to do it in a different setting," she explains. And as a former teacher, working as an ABA Therapist at Healing Haven is a more supportive and less stressful setting at that! Working in ABA therapy means every day you are actively working toward the purpose of changing someone(s) life for the better.
4. Comparable and/or better compensation
Making a difference in lives is the ultimate fulfillment in being a teacher. Yet, it's realistic to want respectable compensation for your work. Unfortunately, and as well all know too well, most teachers are extremely underpaid. According to the National Education Association's 2019 annual teacher salary analysis, the average salary of a teacher in the U.S. was $60,477. In comparison, BCBAs make around $63,000 a year while Registered Behavior Technicians (RBTs) (also called ABA therapists) average $39,000. Since the BCBA position requires a master's degree and licensing, and the ABA Therapist position does not, this is a justifiable discrepancy.
Though ABA Therapists don't make quite the same amount as BCBAs, I personally became an ABA Therapist for a similar salary I made as a teacher because I knew I would have more support, resources, and respect. ABA career salaries line up as comparable and even better compensation to that of teaching. Think of it as making the same amount of money or more as when you taught with much less overwhelm—a commensurate trade-off.
"Teaching is a different mindset. You have to make a lot of adjustments to get into ABA, but it really is worth it. It's a life changing decision but can be so wonderful."
Ready for change?
The intensifying issues educators face today are understandably enough to cause teacher burnout. However, the decision to leave teaching and try a whole new career is not made lightly. "I know it's scary for people that have been teachers for a long time to make a switch, but it can be really amazing," Julie notes. "Teaching is a different mindset. You have to make a lot of adjustments to get into ABA. But it really is worth it. It's a life changing decision but can be so wonderful."
Are you experiencing teacher burnout? If so, take a look at ABA Therapist opportunities as a possible new career path. Still have questions? Head over to the Join our Team page to learn more and apply for a position today! We are more than ready to welcome you to the world of ABA and Healing Haven!
About the Author
Originally from Salt Lake City, Utah, Cara Motzkus earned her B.A. from Whitworth University in Spokane, Washington. She spent a year as an elementary classroom paraprofessional in Utah and was a 2nd grade teacher for another year before re-locating to Michigan for her husband's PhD program. After a rough teaching experience in a 2nd grade classroom in Michigan, Cara left teaching and became an ABA therapist at Healing Haven in March 2020. She took on the Marketing Assistant position in April 2021 and continues to work with clients part time. An intuitive creative and intellectual, Cara is also a trained singer, an avid yoga practitioner, guitar dabbler, and lover of excellent food. Her passions include travel, the mountains, adventuring with her husband, and cooking too much. Give her a good mockumentary or period drama and some ice cream and she's a pretty happy camper.