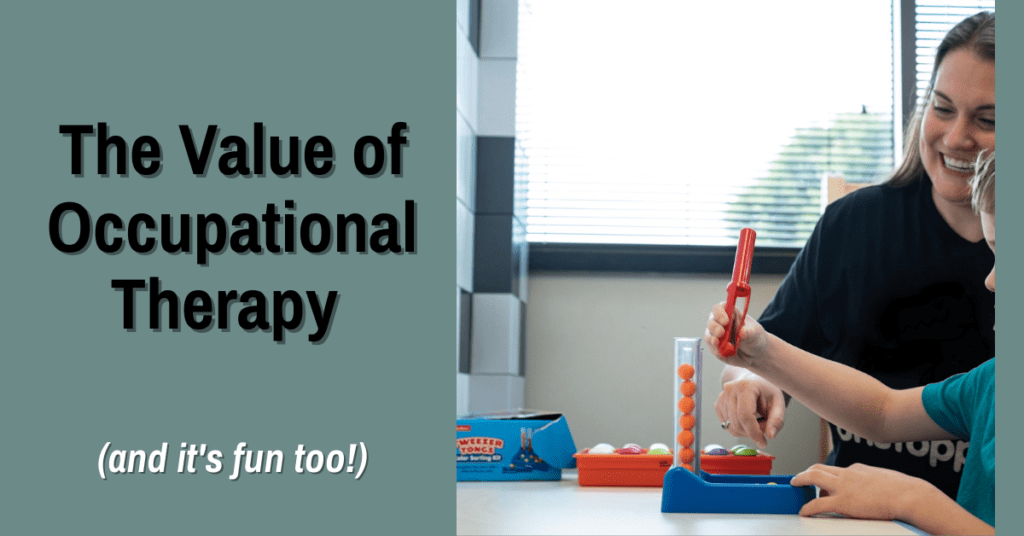 Children with autism, Down syndrome, and other special needs often benefit from various therapies, such as occupational therapy (OT), to support many areas of their development. Occupational therapy is often characterized as exclusively addressing fine motor strength and coordination. However, there are many other areas of a child's development that OT services can positively impact, including balance, core strength, body awareness, sensory regulation, executive functioning, attention, and greater independence with participation in school and self-care.
Occupational Therapists are skilled in using a variety of strategies to address motor development, self-regulation and sensory needs. Additionally, they work on social participation, adaptive skills, and daily life skills. This means activities like brushing teeth, toileting, opening containers, writing, and getting dressed. OTs also incorporate sensory integration techniques to help children who struggle with sensitivity to touch and clothing textures, light and sound sensitivity, as well as balance and body positioning in space.
OT is built upon a foundational belief that children learn best through engaging in their natural "occupation" of play. Their goal is that the "work" should be FUN! They use a variety of play-based materials such as yoga balls, animal walks, scooter boards, swings, obstacle courses, and resistive tunnels to address gross motor skills. They also incorporate board games, crafts, and other manipulatives to teach fine motor coordination through play. It's obvious our OTs enjoy building a variety of skills through fun and engaging child-centered activities. A constant cycle of assessment and treatment through engagement in such activities allows children to keep advancing their skills in a developmentally natural progression.  
Occupational Therapy at Healing Haven
As our ABA Therapy services grew, we added additional therapies to support our clients' development. Doing so also provides one service location for parents. We first added Speech Therapy and then in 2018, we added Occupational Therapy services. This provides collaboration opportunities among the professionals supporting a child. In fact, all our OTs receive ABA training and know how to work collaboratively with our BCBAs and RBTs.
Meet Our OTs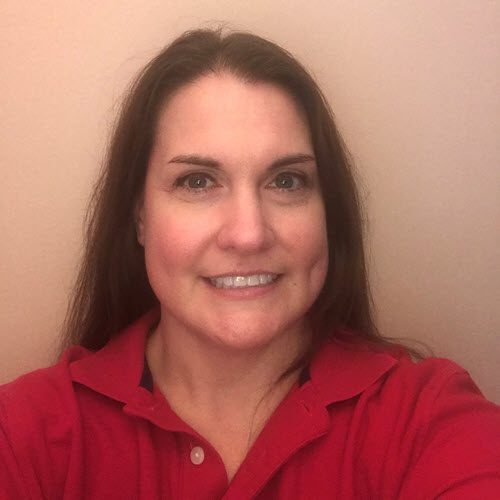 Our first OT on staff has a long history working with our founder Jamie McGillivary. Before going back to school for her master's in occupational therapy, Julie worked with Jamie at Beaumont's HOPE Center. She was the Motor Room Expert in the Parent Training Program. She later went on to manage the summer programs in the early days of Healing Haven.
From Behavior Therapist to Occupational Therapist
Julie first met Jamie through a family she worked with more than 20 years ago doing in-home therapy and respite care. This family motivated her to work with individuals with autism and their families full-time. As a result of that experience, Julie studied to become a BCaBA – Board Certified Assistant Behavior Analyst. She then went on to pursue education to become an Occupational Therapist.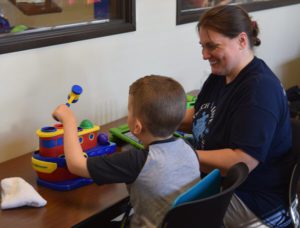 As Healing Haven grew and Julie studied to become an OT, she knew from her previous experience of working with Jamie, that she wanted to return to work here. She rejoined Healing Haven in January 2018 after receiving her master's in occupational therapy from Eastern Michigan. Her years of experience in ABA combined with her education and training as an Occupational Therapist are a powerful combination.
Julie describes her current role as her "dream job". The primary reason she was drawn back to Healing Haven is that "the kids are so much fun!" She likes the saying 'when you meet one person with autism, you've met one person with autism'. The reason is she has witnessed it lived out. Each child is unique, and Julie loves the challenge of discovering what motivates them. Julie also appreciates how the staff acknowledge each other for hard work. "I could not ask for better people to surround me each day."
Expanding Our OT Services
As our clinic grew into two clinics serving kids from 2-16 years old, we recognized the need to also grow our OT services. Since 2018 we have added a few more highly qualified and passionate OTs and OTAs to our team. Their breadth of experience are a tremendous asset to our clients.
Amanda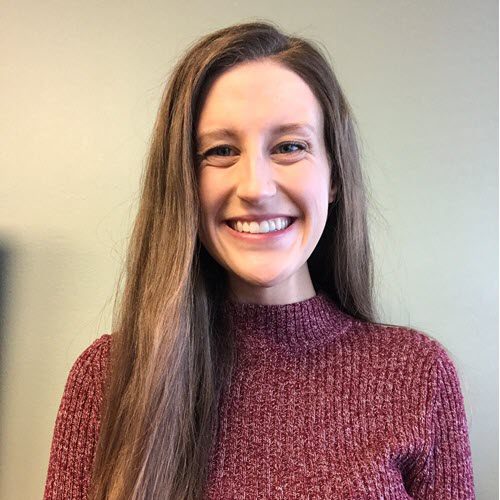 Amanda Alfery serves as our Director of Occupational Therapy. She joined the Healing Haven team in May 2019. She holds a B.A. in Human Occupation and Deaf Studies minor as well as a Master of Occupational Therapy from Xavier University in Cincinnati, OH.
Amanda has worked with children from ages 4 months to 18 years in a wide variety of settings. These include early intervention, home-based services, pediatric summer camps, and pediatric outpatient clinics. In addition to working with children on the autism spectrum, Amanda has experience with children with sensory processing disorder, ADHD, cerebral palsy, Down Syndrome and various developmental and genetic disorders. She is also trained in sensory feeding concerns, the Interoception curriculum, and trauma-informed care.
Amanda grew up with a cousin with Down Syndrome and watched the impact of physical and occupational therapy on his growth and development. As a result, she harbors a love for helping children grow. This happens through science-based practice rooted in the joy and play of childhood. Her passion is partnering with families to build children's skills and optimize strengths. She also loves fostering the independence of the child as well as the health and wellness of the entire family unit.
Heather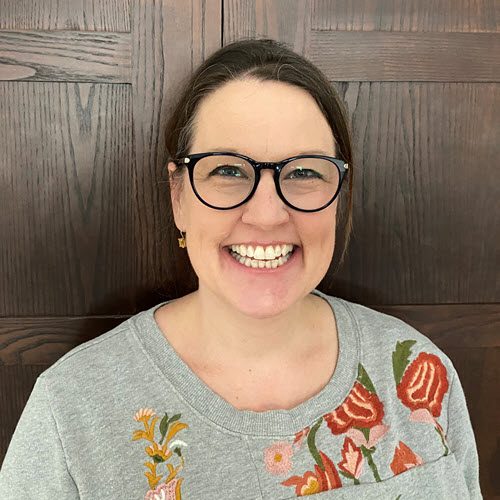 Heather Campbell, COTA/L joined the Healing Haven team in December 2019. She graduated from Ohio University with a Bachelor of Political Science and spent many years working in Higher Education Administration. However, after numerous volunteer experiences working with children and raising her own family, she discovered her passion for the field of occupational therapy. She obtained her Occupational Therapy Assistant degree from Macomb Community College.
Heather has experience with children from early intervention through early adulthood. Her background includes work with autism spectrum disorder, sensory processing disorder, executive functioning difficulties, developmental delay, and fine and gross motor incoordination. In addition to in-clinic practice, Heather has worked within school settings, pediatric summer camps, and an equine therapy camp. She holds training in the Interoception Curriculum and the Handwriting Without Tears program. Heather also pursues continuing education with an emphasis on development of executive functioning skills.
Fueled by the joy and determination of the children she works with, Heather loves the holistic, collaborative, and creative nature of OT. She is a firm advocate for strengths-based therapy sessions. These sessions provide the "just-right" challenge and seeks to empower children and families through instilling a sense of accomplishment in meeting long-term goals.
Gabbi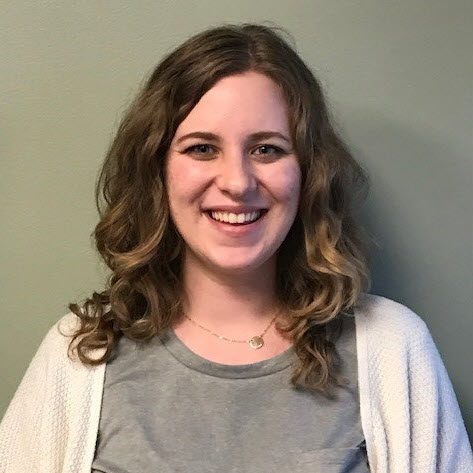 Gabbi Lightcap, COTA/L is a licensed occupational therapy assistant who recently joined our team in January 2021. She graduated from Macomb Community College with her Occupational Therapy Assistant degree after receiving her bachelor's degree in Exercise Science from the University of Toledo.
Gabbi has worked with children from birth through 18 years across a variety of settings. These include adult and pediatric outpatient clinics, pediatric summer camps, and community school districts targeting ADL and IADL skills for independent living. Her background includes working with children with autism spectrum disorder, sensory processing disorder, developmental delay, feeding difficulties, gravitational insecurity, traumatic brain injury, Down syndrome, and cerebral palsy. In addition, her continuing education has targeted a variety of pediatric domains including sensory integration and the DIRFloortime® approach.
Gabbi loves that OTs are uniquely positioned to help children overcome challenges and realize their full potential. This happens through a combination of creativity, play, and evidence-based practices. Gabbi is motivated to provide child-centered treatment sessions and collaborate with families to create opportunities for optimal growth!
Getting Started With OT
Healing Haven offers Occupational Therapy services within our clinics and via telehealth. In clinic provides one service location for parents seeking behavioral, speech and occupational therapy for their child. Additionally, OT services are open to individuals not participating in our behavior-based therapy programs. If your child needs occupational therapy, reach out to us! Fill out our Contact Us form, or give us a call at 248-965-3916.