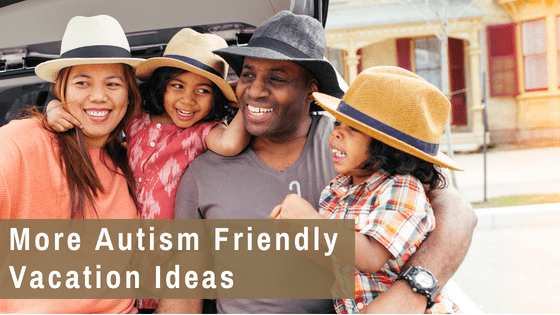 Our blog post – Top 5 Autism Friendly Vacation Spots – was one of our highest trafficked posts for that year. So with more hotels, resorts and theme parks making efforts to provide an enjoyable and safe experience for families impacted by autism, we decided to do a follow-up post with even more autism friendly vacation ideas.
That previous post included Sesame Place®, LEGOLAND Florida, Surfside Beach, South Carolina, Dollywood and Tradewinds Resort. We also did an addendum to share about VillaKey, provider of autism friendly vacation rentals in Florida.
Thankfully we are seeing lots of places becoming "autism friendly" – and when they make these efforts they are creating inclusive places for everyone to enjoy. Hotels, resorts and theme parks are providing training for their staff about autism. They are creating quiet rooms and sensory rooms for individuals who get overwhelmed and need a place to relax. They are adding safety measures for kids who are prone to wander. All of these thoughtful efforts benefit families with an autistic child, but also kids with Down syndrome and even typical kids. By doing so, they are opening up vacation opportunities for families who never dreamed of going to some of these places.
So here are a few more autism friendly vacation ideas to add to your list.
Heading to Florida
Disney World – Orlando
Disney World is a destination for many families with young children. For those with an autistic child, Disney has some accommodations to help make your time there more enjoyable. If you are considering a vacation there, look into their Disability Access Service Pass that allows pass holders to avoid lines at rides. They also have Disney's Strollers as Wheelchairs program, which is a special safety measure for kids who wander, or who need a familiar seat to feel safe and secure. For qualifying children, this program allows kids to remain in their strollers while on a ride or visiting an attraction. Disney also offers a visual guide of the park for individuals with disabilities that you can download before you go. There are a number of additional accommodations for individuals with autism, like Rider Switch, Break Areas and Companion Restrooms.
Discovery Cove – Orlando

Earlier this year Discovery Cove, Orlando became a Certified Autism Center. Discovery Cove is SeaWorld's all-inclusive family resort. They have created accommodations and supports for individuals with autism and other sensory needs. As explained on their website – staff receive specialized training to ensure all guests have an enjoyable experience. Training focuses on: sensory awareness, motor skills, autism overview, program development, social skills, communication, environment, and emotional awareness. They offer a Sensory Guide that provides details on their attractions and how a person with sensory issues may respond to each experience so that families can plan accordingly. Another benefit Discovery Cove offers is they limit the number of daily attendance of 1,000 guests. So crowd control is built into how they operate.
Closer to Home
Cedar Point
At just over 2 hours away from Metro Detroit, Cedar Point's autism accommodations can provide for a great get-away for families. Known as the Roller Coaster Capital of the World, they also provide some great services for families with an autistic child or other disabilities. They offer a Parent Swap ride program and KidTrack is a wristband program if your child is known to wander. There is a Family Care Center and other places for a quiet place to take a break and cool down. Additionally, there are several Family Restroom facilities for those who need support. You can download the Cedar Point mobile app to check on ride wait times, attraction accessibility, events and more. And for overnight stays there is Cedar Point's Hotel Breakers that provides many features to make it a fun get-away.
Hersheypark
For a little bit longer trip but still a doable drive for a long weekend, Hersheypark is about 7 hours from Metro Detroit. They partnered with Parent to Parent of Pennsylvania to make sure their park and attractions are accessible to individuals with disabilities. One feature is their Ride Accessibility Questionnaire – families can answer some questions to receive a detailed list of the rides and attractions suited for your personal family situation. They have several Quiet Areas throughout the park to provide a private place for those who may become over stimulated. Additionally, guests can download a Rider Safety & Accessibility Guide ahead of their visit. And if you have dietary restrictions, you can learn about their allergen information and dining options.
Going Above and Beyond
Morgan's Wonderland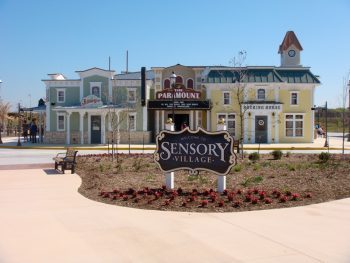 A park designed to cater almost exclusively to children with special needs? That's Morgan's Wonderland, in San Antonio, Texas! It is the world's first "Ultra Accessible Theme Park". The park offers an impressive number of traditional and adaptive rides, swings, and activities to suit all ages. Additionally, they have a Sensory Village, and entertainment that teaches messages of inclusion and kindness. And most importantly, children with special needs, including autism, receive free admission! It may be time to start planning a Texas vacation.
International Adventure
Beaches® Resorts

Beaches® is the first IBCCES (International Board of Credentialing and Continuing Studies) and Autism Certified resort company. Their resort locations in Jamaica and the Turks and Caicos islands offer specialized service to families with children with autism and other special needs. These services include mealtime accommodations such as custom dietary needs, kids camps for children of all abilities, and staff trained in autism needs, sensory awareness, motor skills, and more. Additionally, Beaches® partners with Sesame Street® and Autism and offers activities with Julia, the first Sesame Street® character with autism.
Shannon Airport, Ireland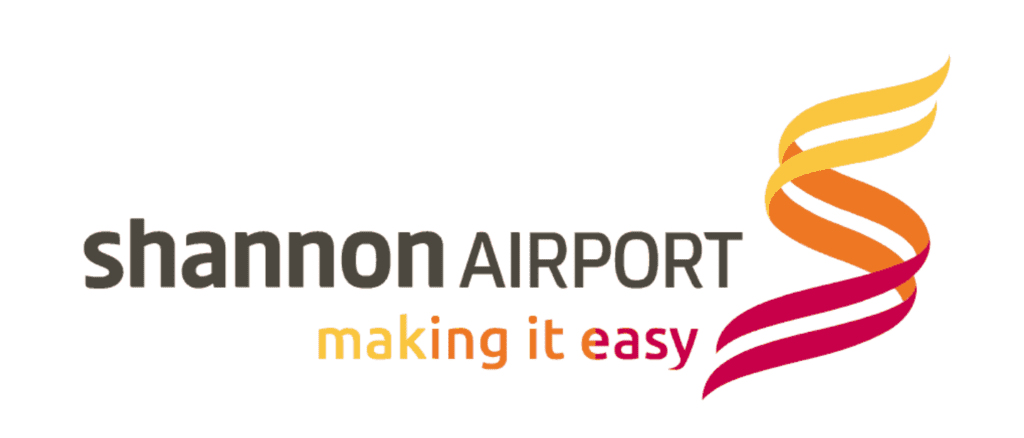 If you're thinking of traveling through Ireland, be sure to consider Shannon Airport as a thoroughfare! Ireland's Shannon Airport provides an awareness program for kids with special needs, ensuring a smooth airport experience. Through this program, kids and those with special needs can access a 24-hour sensory room.
In conclusion, many resorts, theme parks and hotels are understanding the needs of autistic individuals. So we hope these autism friendly vacation ideas help spark your imagination to plan a get-away for your family that everyone will enjoy! And let us know if you've found another vacation spot that was perfect for your family.
If you found this information helpful, we'd love it if you'd share it with your network!