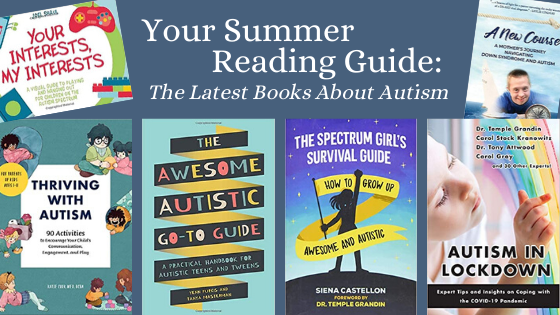 It's not a surprise that reading books is on the rise as a result of the COVID-19 pandemic and lockdown. Weeks upon weeks at home has to be filled up with more than just binging on Netflix, right? Even with restrictions easing and people getting out more, there are many who love having a summer reading list. So we've researched the latest books about autism published so far in 2020. There are several books for parents as well as books to help autistic kids, tweens and teens. (Note: This is not an endorsement of all of these books, but an informative list for you to do your own research.)
The Latest Books About Autism
For Parents
There are several new books about autism released the first half of 2020 that are written to help parents. There's a brand new release filled with tips to help children with autism in our new COVID-19 world. We found a book written by a BCBA that we are excited to add to our collection. And there is new resource written by a Mom specifically for the many families navigating a dual diagnosis of Down syndrome and autism.
Autism in Lockdown: Expert Tips and Insights on Coping with the COVID-19 Pandemic
This timely collection includes tips from expert voices in the field of autism like Dr. Temple Grandin, Ellen Notbohm, Dr. Tony Atwood, and many more. You'll find activities to help kids cope, homeschooling tips, stress management, social stories, ideas on building structure for better behavior, and much more!
Thriving with Autism: 90 Activities to Encourage Your Child's Communication, Engagement and Play by Katie Cook, MEd, BCBA
Written by a Board Certified Behavior Analyst and Educator, this book is filled with practical activities for parents and caregivers to help their children build better conversation skills and strengthen social skills. This is also a great resource for families new to autism, as well as, Applied Behavior Analysis. Kelly provides a great foundation for understanding your child's diagnosis and the reasons for and scientific background of ABA therapy.
A New Course: A Mother's Journey Navigating Down Syndrome and Autism by Teresa Unnerstall
For families navigating a dual diagnosis, this brand new book takes a deep dive into the complexities that families face raising a child with Down syndrome and autism. The author's son is now in his twenties, so she has years of experience navigating this extra unique world.
For Kids, Tweens and Teens
It's wonderful to find so many new books about autism specifically written for kids, tweens and teens! Here are a few released the first half of this year.
Your Interests, My Interests: A Visual Guide to Playing and Hanging Out for Children on the Autism Spectrum by Joel Shaul
Geared toward elementary and middle school aged kids, this visual resource can help children learn important social skills. So if your child could use some help learning how to play and interact with their peers, check out Your Interests, My Interests. (Kindle preview not available.)
The Spectrum Girl's Survival Guide: How to Grow Up Awesome and Autistic by Siena Castellon
This empowering quote from the book says it all: "Never be ashamed of being different: it is this difference that makes you extraordinary and unique." If your daughter with autism could use this type of positive self image, and support in understanding social communication, friendships, dealing with bullying and more, this book may be a great option. Because it is written by a young woman on the autism spectrum, she understands this important time in a young autistic girl's life.
The Awesome Autistic Go-To Guide: A Practical Handbook for Autistic Teens and Tweens by Yenn Purkis and Tanya Masterman
This newly released interactive book is a guide for autistic tweens and teens that promotes self-acceptance. It helps shape a young person's understanding of the strengths they have because of their autism and develops confidence in who they are. How great is that!
Have you picked up a new favorite book about autism that we don't have here? If so, let us know in the comments! And if you want to check out more helpful resources, one of our most popular blog posts of all time is Six Great Books for Parents of Autistic Children.
We hope you learned about some new books about autism. Please share it with your community!