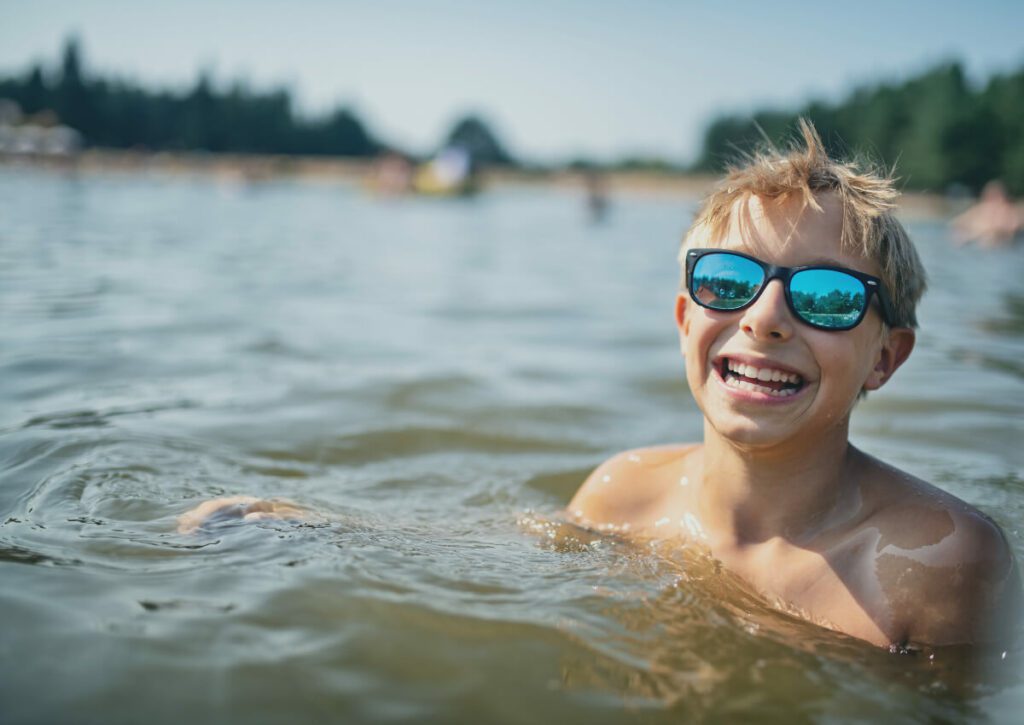 It's summertime, which usually equates to a lot of time outside. And with pools open and all the lakes here in Michigan, that often means time in and around water. While swimming and playing in water are fun and great exercise, it can also be very dangerous. In fact, the Michigan Department of Natural Resources has a new flag warning level for the Great Lakes. Because of the increased danger lakes and pools have, water safety for children with autism, or any child, is extremely critical.
Why water safety is so important for children with autism
Children with autism, as well as Down syndrome, often wander, which can obviously be very unsafe if they get close to water unsupervised. Additionally, drowning can occur without making any sound. Children may also be unaware of things such as water depth, water temperature, water currents, or slippery surfaces. Not every child likes to be in the water, especially children that struggle with sensory issues. However, all children should still be aware of water safety in case of accidental slips or falls into a pool or lake.
This statistic is scary and sobering, but every parent of an autistic child needs to know – drowning is a leading cause of death for children with autism. We've compiled some tips and ideas to teach water safety to your child with autism to help you prepare for this season.
Get your child in swimming lessons
Every child should learn to swim, and for children with special needs, it's important the skill is taught in a way that resonates with them. Make sure the teaching environment is not too distracting or overwhelming for your child.
There are many programs that provide adaptive swimming lessons for children with special needs. You can start by contacting your local YMCA. And the National Autism Association's Big Red Safety Toolkit for caregivers provides an excellent guide and resources for managing wandering, as well as how to find swim lessons in your area.
Provide reinforcers
Have reinforcers and preferred items available when your child performs important or difficult tasks related to water safety. This could include tolerating getting into the water, using appropriate safety gear, getting out when a whistle is blown for "adult swim time," or leaving the pool when instructed.
Visual learning of water safety
Use video narratives, social stories, or visual routines to teach water safety. The Swim Angelfish channel on YouTube, for example, is a great resource which provides a variety of videos that can be utilized to teach water safety to kids with disabilities.
Many children with autism spectrum disorder are rules-driven, so use that to your advantage. Set specific rules for how they are to behave around water. Then practice those rules in real world situations. And if you have a pool at home, or live on/near a lake, consider placing "STOP" or "DO NOT ENTER" signs on doors that open to the outside, or gates to the pool.
Use appropriate swim gear
Even if your child knows how to swim, it's still a great precaution to use a life jacket or flotation device around water, whether they are planning on swimming or not. It can also offer reassurance when attempting a new skill and teaching independence. The especialneeds website is a great place to purchase special needs and sensory-friendly water gear, if needed.
Teach key information
Because of the high percentage of wandering in kids with autism – nearly 50% – make sure your child knows his or her name, address, and phone number in the event he or she is separated from you. If your child does not speak, make sure they wear a bracelet, tag, tattoo, etc. with their name and your name and phone number.
Set up your environment vigilantly
Even if you feel confident that your child thoroughly understands the rules of water safety, accidents can still happen. It's important to prepare for the worst so that nothing slips through the cracks. When preparing your environment near water, consider installing fences or gates with alarms around the body of water, if applicable. Additionally, you should also think about placing alarms or chimes on doors that open to bodies of water and keep toys of interest away from the water when not in use. Taking these measures will ensure that life-threatening wandering doesn't take place.
Communicate with others
Talk with your neighbors, whether at home or on vacation. Ask them to contact you immediately if they see your child wandering alone outside your home or property. Even if you don't own a pool, but your neighbors do, ask them to be particularly aware of your child wandering near their property.
We hope these ideas help you implement water safety for your child with autism. And for more general recommendations for pools, beaches, lakes, etc., check out this swimming safety guide. We want everyone to have a less stressful and more enjoyable summer!
If you found this information helpful, we'd love it if you'd share it with others!